Spaghetti Squash with Eggplant Sauce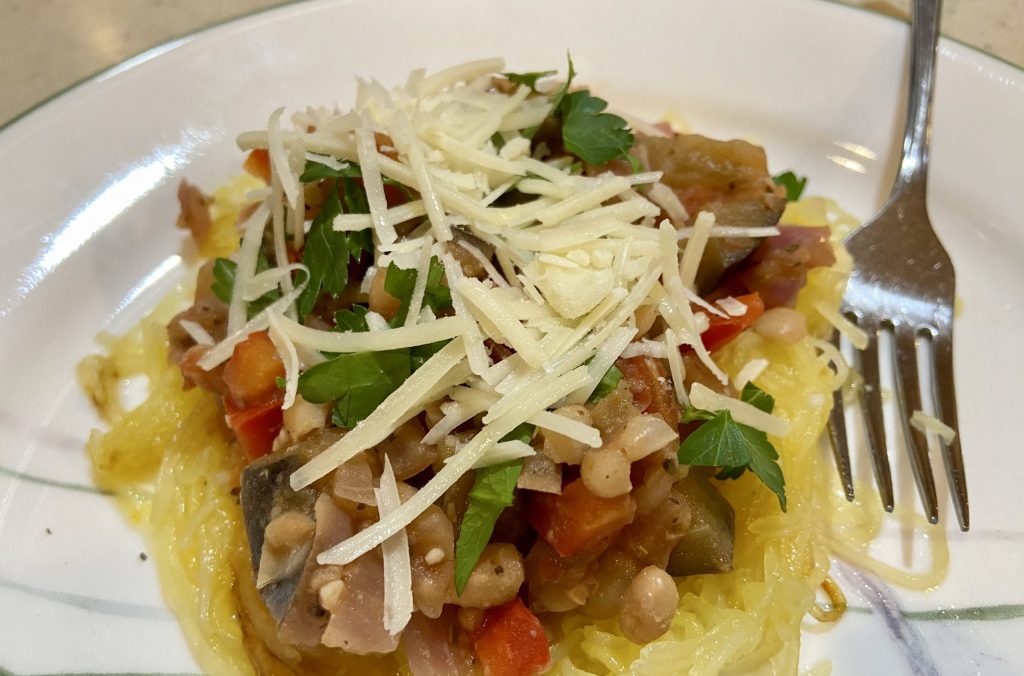 8 Servings

Ingredients

4 pounds Spaghetti Squash, uncooked
1 tablespoon olive oil
1 medium eggplant, diced (about 4 cups)
1 red onion, diced
8 cloves garlic, minced
1 red bell pepper, diced
14 ounce can crushed or diced tomatoes
15 oz can low sodium white navy beans, drained and rinsed
1 tablespoon dry Italian seasoning
1/2 teaspoon kosher salt
1/4 teaspoon red chili flakes, more to taste
Splash red wine
2 Tbsp capers plus a splash of the brine
Fresh Italian parsley (for garnish)
4 oz shredded or grated Romano cheese (optional)
Salt and pepper to taste

Directions

1. Preheat oven to 425°F. Cut squash in half width-wise and place cut side down on parchment lined baking sheet. Roast in oven for 30-40 minutes or until knife tender. Turn squash on its side and roast another 5-10 minutes so that the squash dries out a bit.
2. Remove squash from oven and let cool slightly. Scoop out the seeds and then scoop the squash strands out of the skin and place in a bowl. Fluff with fork and add salt and pepper to taste.
3. While squash is roasting, make eggplant sauce. Heat olive oil in a large skillet. Add eggplant and red onion and sauté for 4-5 minutes, stirring frequently. Add garlic and red pepper and cook for another 10-12 minutes, stirring occasionally, or until the eggplant is tender.
4. Add crushed tomatoes, white beans, Italian seasoning, salt, chili flakes, and splash of wine and cook and simmer for about 5 minutes. Add capers and some of the brine from the capers to the sauce combining well.
5. Serve eggplant sauce over the spaghetti squash. Garnish with fresh Italian parsley and 1/2 oz of shredded Romano cheese.
Nutrition: 1/8 of both squash and sauce with 1/2 oz Romano Cheese / Calories 234 / Total Fat 6.5 g / Saturated Fat 2.9 g / Cholesterol 15 mg / Sodium 597 mg / Carbohydrates 35.4 g / Fiber 9.6 g / Sugar 12.4 g / Added Sugar 0 g / Protein 11.2 g
Recipe adapted from: https://www.feastingathome.com/roasted-spaghetti-squash-with-eggplant-puttanesca/#tasty-recipes-19943-jump-target