Sweet Potato Chickpea Salad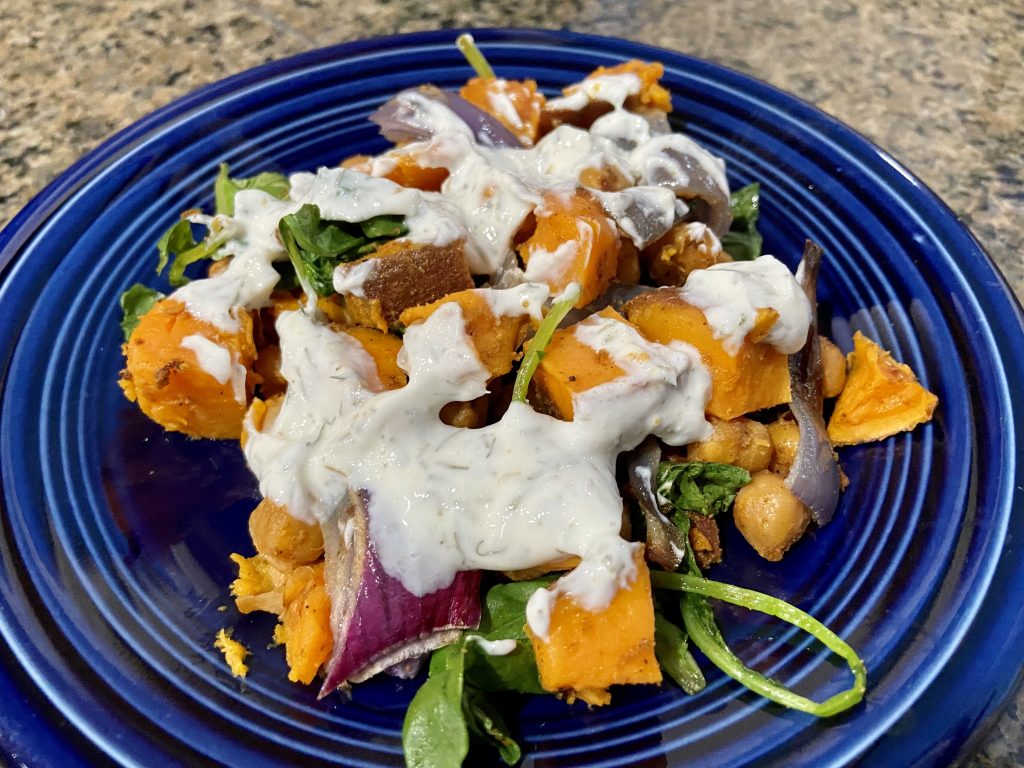 8 Servings

Ingredients

Salad
Olive oil spray
1 medium red onion, sliced into wedges
1 large sweet potato
5 oz baby kale
1/2 Tbsp olive oil
15 oz can chickpeas, drained and rinsed
1 tsp cumin
1 tsp garlic powder
3/4 tsp chili powder
1/4 tsp salt
1/4 tsp black pepper

Ranch Dressing
1 cup plain nonfat Greek Yogurt
2 Tbsp freshly squeezed lemon juice
1 Tbsp dried dill
1 tsp garlic powder
1/8 tsp salt

Directions

1. Preheat oven to 400°F.
2. Cut sweet potatoes into 1 inch cubes and slice onion. Cover baking sheet for foil and spread sweet potato and onion out on foil. Spray with olive oil spray and add pinch of salt and pepper. Bake for 20 minutes.
3. Remove baking sheet from oven and evenly spread the kale over the sweet potatoes and onions. Spray kale with olive oil spray and add a pinch of salt and pepper. Return to oven for 5 more minutes and then set aside.
4. While vegetables are roasting, toss chickpeas with cumin, garlic powder and chili powder in a mixing bowl.
5. Heat 1/2 Tbsp olive oil in a large nonstick skillet over medium heat. When hot, add chickpeas and sauté, stirring frequently, until golden brown.
6. Prepare dressing by combining yogurt, lemon juice, dill, garlic powder and salt.
7. Combine sweet potatoes, onion, kale and chickpeas in a large bowl. Either drizzle dressing over the top and toss before serving or serve dressing on the side.

**Salad can be served either warm or cold.
Nutrition: 1/8 of both salad and dressing / Calories 144 / Total Fat 2.6 g / Saturated Fat 0.3 g / Cholesterol 1 mg / Sodium 354 mg / Carbohydrates 23.3 g / Fiber 5.4 g / Sugar 6.0 g / Added Sugar 0 g / Protein 8.4 g