Zesty Tilapia with Pecans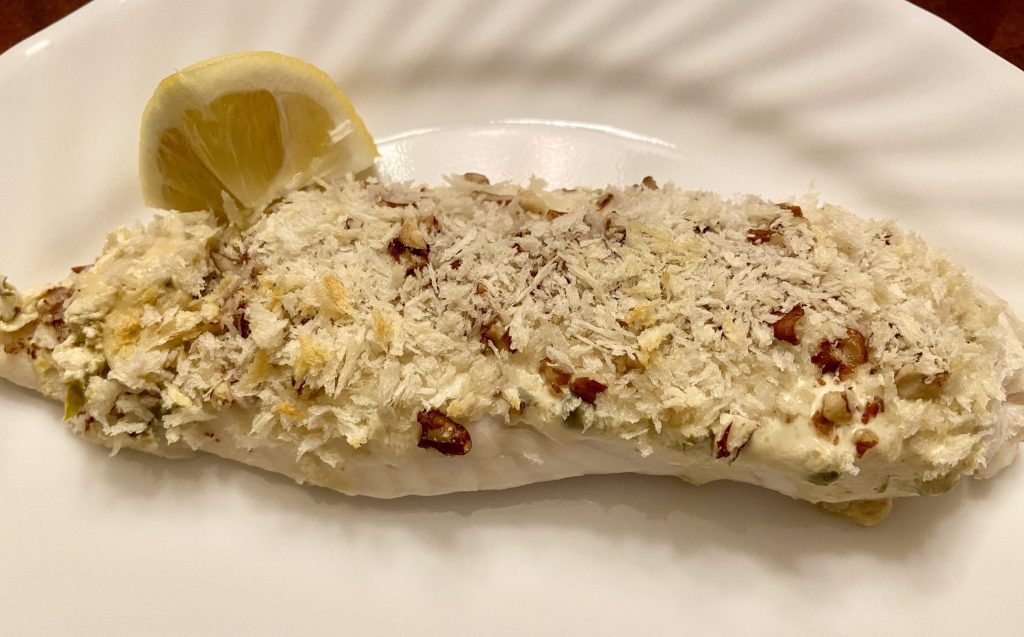 4 Servings

Ingredients

About 1.5 pounds tilapia fillets
1/4 cup Nonfat Plain Greek Yogurt
4 tsp Dijon mustard
Zest from 1 small lemon
4 tsp fresh lemon juice
2 tsp capers, minced
2 Tbsp finely chopped pecans
1/4 cup panko
Fresh parsley, optional

Directions

1. Preheat oven to 375°F. Blot the tillapia fillets with a paper towel and place on a lined (either foil or parchment paper) baking sheet with a rim.
2. Whisk together the yogurt, mustard, lemon zest, lemon juice, and capers in a small bowl. Spoon the mixture over the fish. Sprinkle the pecans and panko on top of the fillets.
3. Bake about 7-8 minutes or until the fish flakes easily with a fork and the panko is slightly browned.
4. Top fish with fresh parsley and serve with lemon wedges.
Nutrition: 1/4 of fish/ Calories 230 / Total Fat 6.2 g / Saturated Fat 1.3 g / Cholesterol 86 mg / Sodium 249 mg / Carbohydrates 6.7 g / Fiber 0.9 g / Sugar 1.3 g / Added Sugar 0 g / Protein 37.3 g

Adapted from: December 2022 Nutrition Action Healthletter