Black Bean and Sweet Potato Chili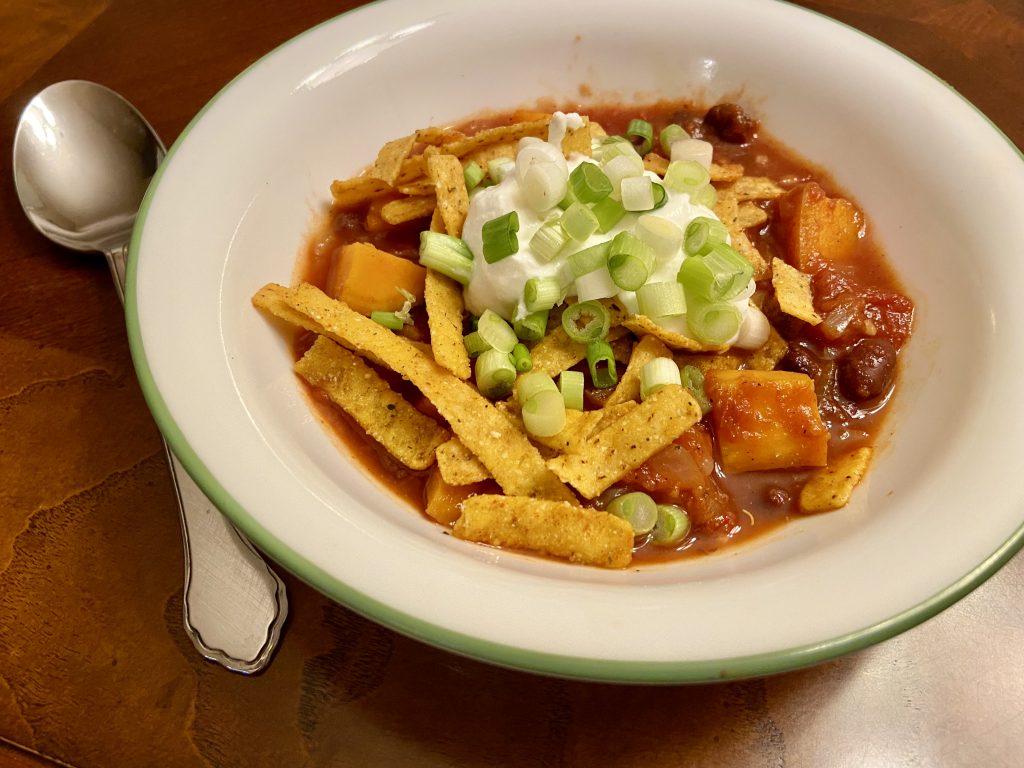 8 Servings

Ingredients

1 Tbsp Olive oil
1 large onion, chopped
6 tsp chili powder
1 tsp paprika
1 tsp cumin
1 tsp salt
3 cloves garlic, minced
2-15 oz cans of low sodium black beans, rinsed and drained
1 large sweet potato, cut into 1/2 inch pieces (I left the skin on)
14 oz can diced tomatoes
14 oz can crushed tomatoes
1.5 cups vegetable broth

Optional toppings: sliced greens onions, nonfat sour cream or nonfat plain Greek yogurt, tortilla strips

Crock Pot Directions:

1. Add olive oil to nonstick pan and cook onions for about 3 minutes or until softened.
2. Add onions to crock pot and add remaining ingredients. Stir well.
3. Cover and cook on low for 6-8 hours or on high for 3-4 hours or until sweet potatoes are cooked.
4. Serve with optional topping if desired.

Instant Pot Directions:

1. Press Sauté; heat oil in Instant Pot. Add onions and cook and stir for 3 minutes or until softened. Add chili powder, paprika, cumin, salt, and garlic and cook and stir for 1 minute.
2. Add remaining ingredients and mix well.
3. Put on lid and move pressure valve to the Sealing position. Press Pressure Cook or Manual and cook at high pressure for 4 minutes.
4. Use quick release after cooking is complete. Press Sauté and cook and 3-5 minutes or until chili thickens slightly.
5. Serve with optional topping if desired.

Nutrition: 1/8 of recipe / Calories 188 / Total Fat 2.8 g / Saturated Fat 0.4 g / Cholesterol 0 mg / Sodium 411 mg / Carbohydrates 34.5 g / Fiber 10.6 g / Sugar 6.4 g / Added Sugar 0 g / Protein 9.0 g
Adapted from: Simple Instant Pot Recipes (2021), Publications International, Ltd.