Low Fat Cornbread Dressing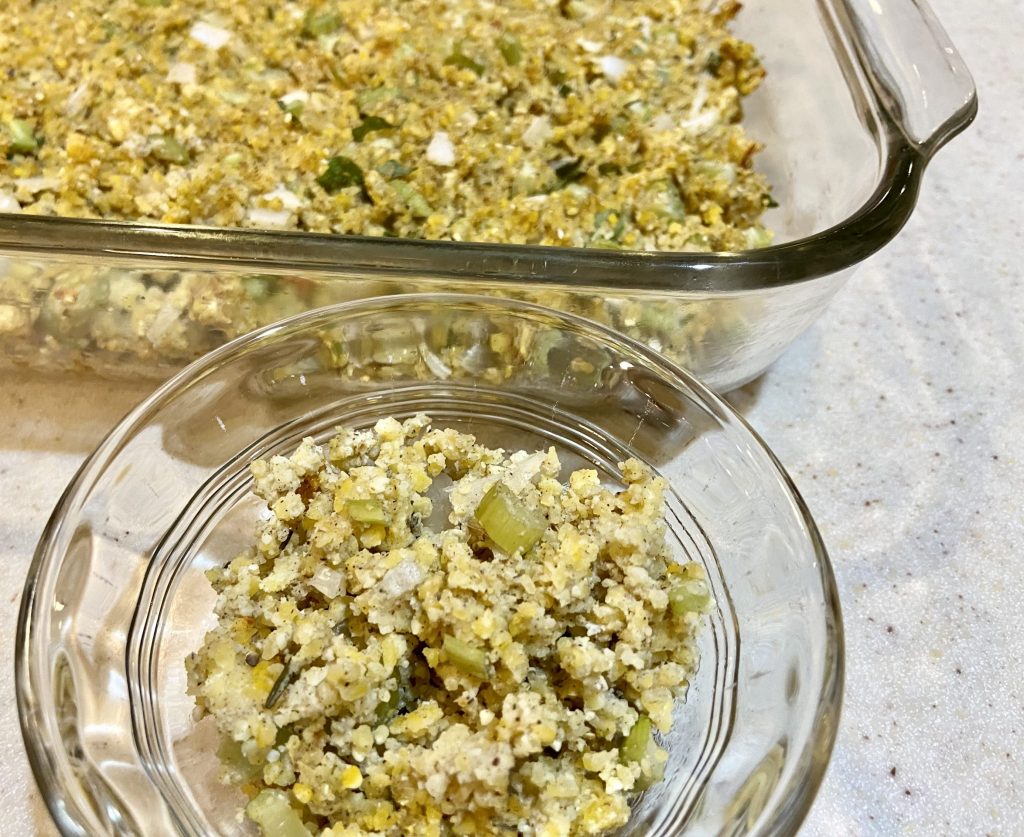 12 Servings

Ingredients for Cornbread

1 1/2 cups whole grain cornmeal (Medium Grind)
2 tsp baking powder
4 egg whites, lightly beaten
1 1/4 cups low fat buttermilk

Ingredients for Dressing

1 cup chopped onion
1 cup thinly sliced celery (include some leaves)
2 1/2 tsp sage
1 tsp thyme
1/2 tsp marjoram
1/2 tsp dried rosemary
1/2 tsp salt
1/4 tsp cardamom
1/4 tsp nutmeg
1/4 tsp black pepper
1 cup chicken broth
2 egg whites, lightly beaten

Directions

1. Make the cornbread by combining the cornmeal and baking powder in a large bowl; mix well. Add egg whites and buttermilk and stir to mix well.
2. Coat a 9 inch square pan with nonstick cooking spray. Spread batter in pan and bake at 400° F for about 20-25 minutes or until wooden toothpick inserted near center comes out clean. Cool completely.
3. Remove the cornbread from the pan and crumble into a large bowl. Add the remaining ingredients and mix well.
4. Coat a 2 quart casserole dish with nonstick cooking spray. Spoon the stuffing into the dish and bake uncovered at 325° F for about 45-60 minutes or until heated through and lightly browned on top.

Can make the cornbread 1-3 days in advance.
Nutrition: 1/12 of recipe / Calories 86 / Total Fat 1.2 g / Saturated Fat 0.4 g / Cholesterol 2 mg / Sodium 322 mg / Carbohydrates 15.0 g / Fiber 1.6 g / Sugar 2.2 g / Added Sugar 0 g / Protein 4.4 g
Adapted From: Fat-Free Holiday Recipes (1995) by Sandra Woodruff, RD