10 Tips for Goal Setting in the New Year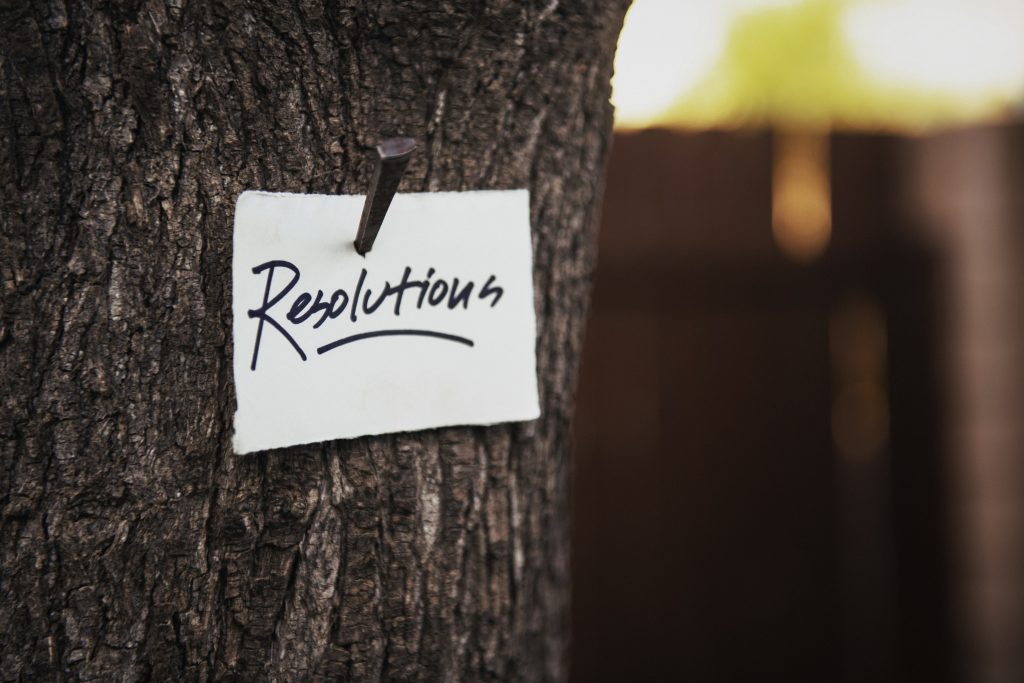 Every January many people decide to make New Year's Resolutions to help improve the quality of their lives. This time of year often fills people with hope that they can make changes in their lives. Many people set goals and aspire to follow through and meet their goals. In fact, more than 1/3 of Americans make New Year's Resolutions. But very few actually stick with it to meet their goals. Here are some tips to help ensure you can achieve the goals you set for yourself.
Set SMART goals.
S: Specific goal. What are you trying to accomplish? What actions will you take?
M: Measurable goal. What data will you use to measure if you are meeting the goal?
A: Attainable goal. Is this a goal that is realistic and that you can accomplish?
R: Relevant goal. Why are you setting the goal you are setting? Why is the result important?
T: Time-based goal. What is the time frame for the goal?
If one of your goals is to exercise more, consider how you can set a SMART goal. Rather than say "I will exercise more," a SMART goal would be "I will walk for 45 minutes on Mondays, Wednesdays, and Fridays before work." While considering what is an attainable and realistic goal, make sure to also set a goal that is challenging for you. You will likely be more motivated if your goal challenges you. So if you have walked for 30 minutes in the past, increasing the time to 45 minutes would be more challenging for you. However, if you have not been exercising at all, a better goal may be "I will walk for 20 minutes on Tuesdays and Fridays before work."
Set goals that are very important to you and that you are passionate about. Is the goal you set one that you will continue to work on even when obstacles pop up? Do you have the mindset of "doing whatever it takes" to reach this goal? If the answer is "no" to these questions, you should rethink your goal.
Only set 1 or 2 goals at a time. This will help you to focus your attention and decrease the likelihood of losing motivation. As you achieve a goal, you can always set another one.
Surround yourself with people who will support your goals. It is easy to procrastinate. Let your family and/or friends know what your goals are so that they can encourage you when you are not feeling motivated and also check in on your progress. If your goal is related to exercise, ask a family member or a friend to be your workout buddy. Or join an in-person or online support group so you can connect with people who have set similar goals. This can help you be more accountable.
Write down your goals and put them where you will see them. Figure out the best way to document how you are doing with your goals, perhaps using a journal, app, website or even a calendar so that you can keep track of your progress.
Redefine goals as needed. You may need to start with a smaller goal. If your goal is to run a half marathon and you have never run further than a 5K, then you will need to start with a smaller goal (for example, to run 4 miles on Mondays, Wednesdays and Fridays after work) and then gradually increase the distance you run and the number of days you run until your goal of running a half marathon is attainable. You may find that your goals are too large and need to be redefined into smaller, more manageable goals. Or you may find that the goals you set are not challenging enough. Take a look at the goals you have set every few weeks to make sure they are still good SMART goals for you.
Remember your "why". When you feel like you are losing motivation, focus on why you wanted to achieve your goal. Put notes up around your home to remind you why your hard work to achieve your goals will be worth it.
Think about specific things you can do to help make it easier to meet your goals. For example, if your goal is to eat 5 servings of fruits and vegetables every day, make sure you go grocery shopping regularly and also cut up fruits and vegetables ahead of time so it is easier for you to eat them.
Get plenty of sleep. A lack of sleep can make it much harder to meet your goals due to less motivation in general and also having less energy and being less productive. No matter what type of goals you have set, achieving your goals will be more difficult when you are sleep deprived.
Have compassion for yourself. Instead of giving up if meeting your goal is not going as planned, take a deep breath and keep working on it. Doing something (like even partially meeting your goal) is always better than doing nothing.
Keep in mind that you can set goals and make lasting changes any time of the year, not just in January!